REPLACEMENT CLADDING FAILS FIRE SAFETY TEST
A popular cladding brand failed a safety test this week - despite being seen as so fire-safe that it is permitted on tall buildings without any extra tests, Newsnight has learned. Cladding removed for failing tests may be being replaced by this brand, which has now failed the same test. Valcan, the UK distributor of Vitracore G2, said the product is safe and had passed the required testing. The housing ministry said it would look "closely" at the results. The test that took place this week was unusual: a fire-test took place in Dubai of a cladding design that, ordinarily, would not be expected to be tested. It was a cladding system made up of Vitracore G2 cladding over a mineral wool insulation. UK building rules would presuppose this design to be safe without the test since all the parts have fire safety ratings of at least "limited combustibility".This rating of "limited combustibility" is assigned based on lab assessments of the materials' chemistry. These ratings mean that, if this design were to be specified for a building, it could be installed without any need for a full system test. It is only designs that use components deemed to have weaker fire ratings that are obliged to go through them.Our regulations assume a design using components of "limited combustibility" would
pass the test
- a test known in the jargon as the "BS-8414".This is the normal system test: cladding is fixed over a wall, and a fire is lit underneath it to test its resistance to the blaze. The test is intended to simulate the response to a fire spilling out of a window. It was the BS-8414 test that was used last year to determine which cladding systems were safe or unsafe after the Grenfell fire.The test was carried out at a facility run by an independent testing company called Exova and commissioned by Kingspan, a company that makes cladding products. When the cladding was tested, the Exova engineers found that the temperature inside the cladding breached the upper limits required to pass the test. Adrian Buckmaster of Tetraclad, a cladding company, said he has observed a marked rise in the popularity of Vitracore G2, explaining: "the sort of buildings it's going on to is where existing cladding that has failed the recent tests wants to be replaced with a similar type of finish."This means that LAs and housing associations may have replaced cladding systems that have failed the BS 8414 test with a design that would also fail that test.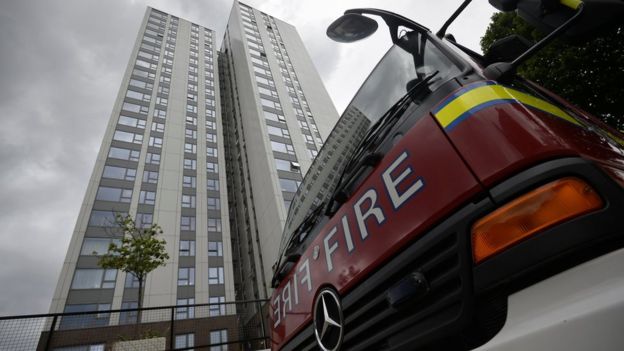 VITRACORE G2
Vitracore G2 is a panel with honeycomb structure: it has a structure similar to corrugated cardboard - but is made out of aluminium. The panel has no solid core - and especially no combustible core, such as those used in the panels on the Grenfell Tower. Vitracore G2 is much safer than plastic-cored products like those used at Grenfell - but there have been concerns within the industry about how honeycomb-style cladding can safely be used.
Vitracore G2 is made of thin aluminium and melts away rapidly in fire. This limits its ability to protect other components in the same way that more solid A2 panels can. Vitracore G2 also has glue inside, holding it together. The glue, according to Vitracore's official test certificates, is highly combustible. This is permitted for a product of limited combustibility, if there is very little of it.
Valcan, which distributes Vitracore G2 in the UK, said that the product had passed a BS-8414 test previously. They also noted that because it has a "limited combustibility" rating, their cladding could be used in some circumstances without needing a test. They told Newsnight: "Vitracore G2 was tested… by Exova Warringtonfire in November 2017. The panel did not spread flame, and temperature results were safely below requirements."
"This test of Vitracore G2 demonstrates that the panels will not cause a fire to spread through the exterior or interior of a high-rise building."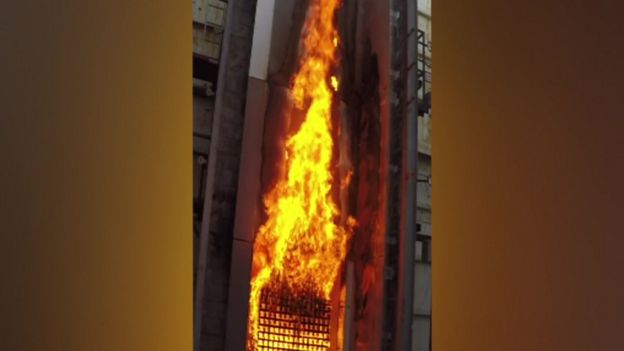 BROADER QUESTIONS
This is a broader issue than Vitracore G2, however.
Newsnight has also learned of two other tests where a cladding system exclusively using limited combustibility components failed fire tests - one conducted in Australia and one in the UK. These results further challenge the assumption that a system made from products rated as "limited combustibility" or better can be assumed to be safe if the overall system has not been tested.
This episode raises questions for the government. Ministers are minded to ban all combustible components in cladding. If it is still possible to create cladding systems that are unsafe without using anything deemed "combustible", this ban may not be effective.
Mr Buckmaster said: "maybe this is the situation where not only do you have to achieve a classification of non or limited combustibility but you also have to pass a large scale test."
The housing ministry said: "We are consulting on banning the use of combustible materials in cladding systems on high-rise residential buildings. We will be looking at these test results closely."